DESING IS MUCH MORE AN ACT OF SPACING AS AN ACT OF MAKING
Creating a setting specifically designed to put the focus on a lemon placed among design objects – process described in the images here below – proves the effectiveness of the 3D scanning technique for both natural and man-made objects.
Nevertheless, creating a setting is even more complex. It is a process related to the study of light, influenced by the colour composition, linked to the harmony of shapes. Respecting each one of these elements will bring an added value to every object in the composition.
Go to gallery
4 images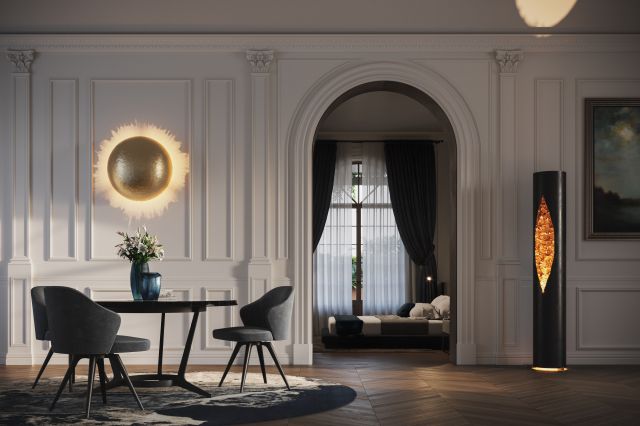 It is the only way to create something unique, a harmonious and rewarding relationship.

The creation of an image follows a precise analysis outlined by the client's purpose and the creative search for elements that under- line the style of the digital artist.
The goal is to create a work that is visually pleasing and, at the same time, commercially viable, able to communicate effectively.
It is a delicate game of balance between the main elements of interior design, which you cannot ignore. Whether they are private spaces, such as your home, work environments, or commercial businesses, you must know how to manage them.
The birth of the very idea.
The process takes care of the details and plays with aesthetic canons that follow the needs of an image.

A photorealistic render starts from the idea of being able to fully manage the image and each of its components, but respects architectural and photographic canons.
From visual research, through to drawing, then through clay, up to the creation of the final image.
Yes, it is a drawing.

The good and bad thing about a good render is that it becomes invisible.
It is thought that an image is pure appearance. But what if they have contents?
Art is an idea that has put togeth- er form and content. A concept that has found its perfect visual expression